This was a very enjoyable project to work on in 2011-2013. the existing house sited on a busy corner
in Glasnevin, Dublin. The existing side extension, shown below was dark, needing re-orientation
to take advantage of views and solar gain to the south.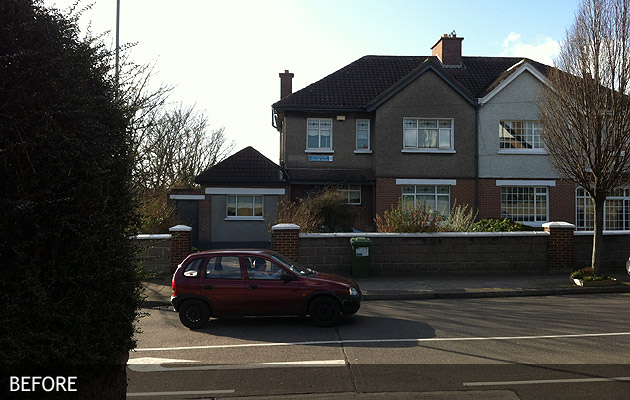 November 2012. Front view of house with its existing side extension (with leaking roof!)
One can also see that just over the wall to the south, was an modest area of public green space, with some
useful trees to provide privacy/solar screening if considered by design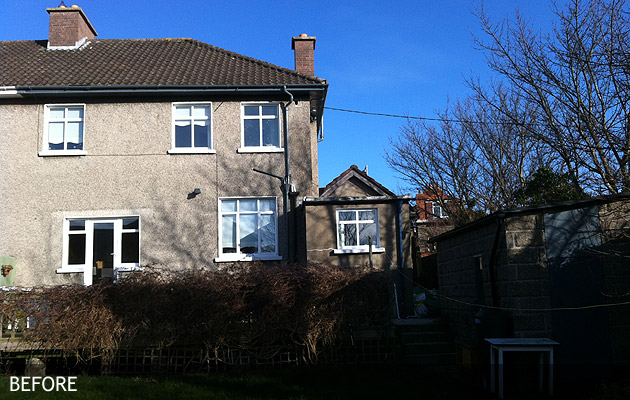 November 2012. Rear view of house with its existing side extension prior to commencement of construction works onsite.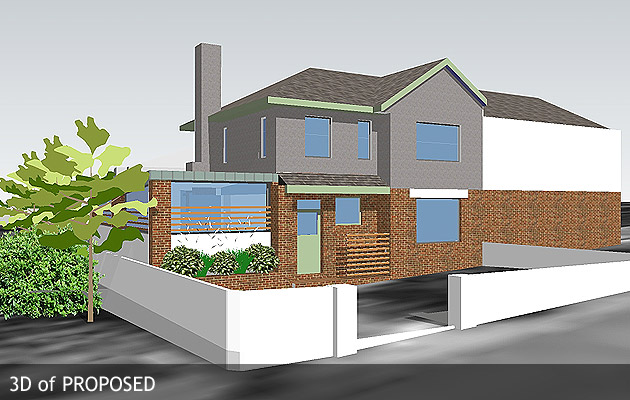 Some 3D images used for client discussions.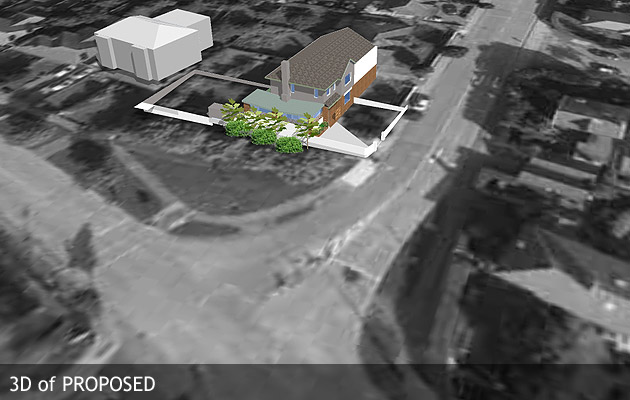 Our proposed replacement of this side extension was planning permission and worked through detailed design. This is a
single storey extension defined by its floating butterfly roof which achieves excellent natural light and warmth and
an uplifting sense of space within this extension.
The most dynamic aspect of this project which I hoped to achieve, was a subtle balance between public and private perceptual
space. Wonderful clients to work with, they came with me in on this journey to achieve an openess to the
immediate public green space available to them, as well as distant open skies and city scape beyond, which are also framed.
Revisiting 5 years later in 2018, our clients are thrilled with the relationship they can have with their city, and still have
enough privacy and security.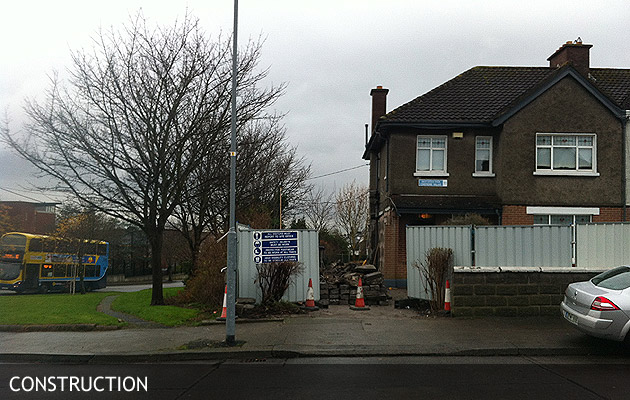 20th December 2012. Front view. In line with clients preference, we have work commenced just before Christmas.
Old side extension is knocked and cleared and grounds are prepared for new foundations.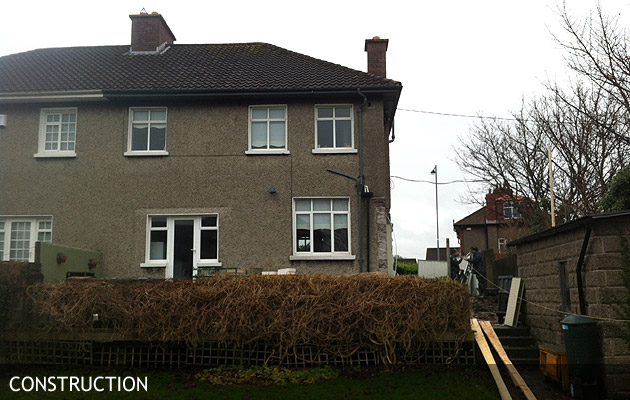 20th December 2012. Rear view after demolition.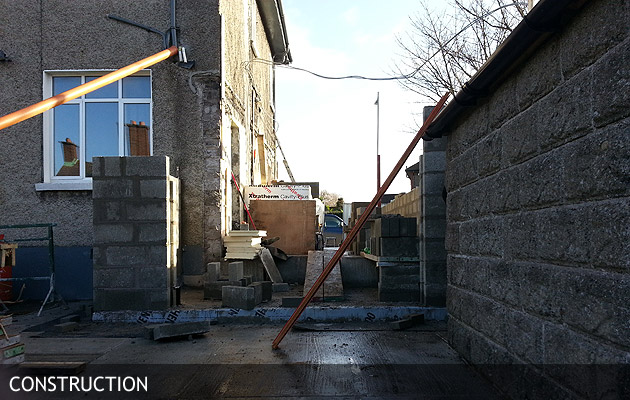 31st January 2013. Rear view. Foundations prepared and in place, rising walls and first layers of insulation now
being erected, and opes for walls and windows to maximise natural light being formed.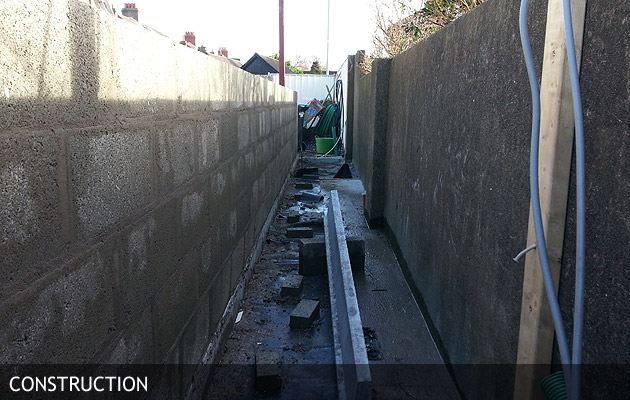 31st January 2013. Side view. Side alley to be maintained for clients access to rear garden.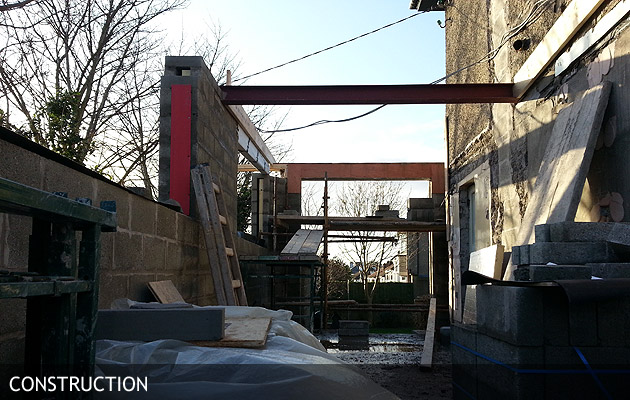 14th February 2013. View from front of extension. Major steel members to roof are in place, and to the left
the blockwork shows the large wedge shaped window opes to the southern aspect.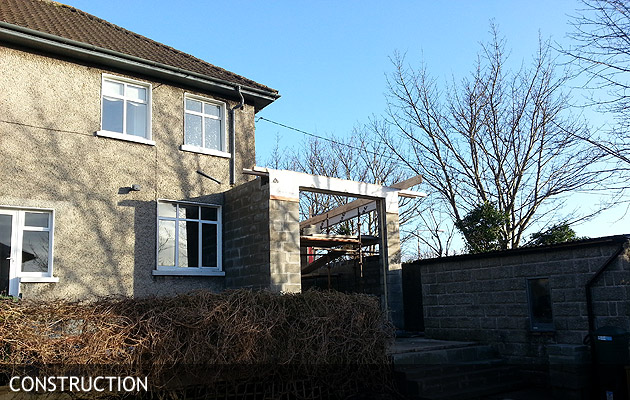 14th February 2013. View from the rear garden. Again the shape of the roof and walls which determine the
glazed openings are apparent. The large opening you see here will frame a sliding door with fanlight over
overlooking the rear garden below, and natural light from the evening setting sun.