FOR traditionalists, this futuristic-looking attic extension to a 1970s A-frame house in Springhill Avenue, Blackrock, Co Dublin , may be a step too far. But by all accounts the planners liked its streamlined look in comparison to some of the bulkier attic conversions we're used to seeing, that can look like a train carriage is sticking out the side of the roof.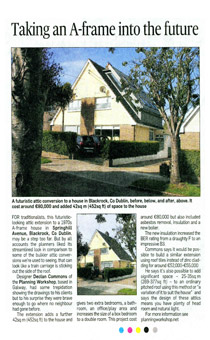 Designer Declan Commons of the Planning Workshop , based in Galway, had some trepidation showing the drawings to his clients but to his surprise they were brave enough to go where no neighbour had gone before.
The extension adds a further 42sq m (452sq ft) to the house and gives two extra bedrooms, a bathroom, an office/play area and increases the size of a box bedroom to a double room. This project also included asbestos removal, insulation and a new boiler.
The new insulation increased the BER rating from a draughty F to an impressive B3.
Commons says it would be possible to build a similar extension using roof tiles instead of zinc cladding for around €52,000-€55,000. He says it's also possible to add significant space – 25-35sq m (269-377sq ft) – to an ordinary pitched roof using this method or "a variation of it to suit the house" and says the design of these attics means you have plenty of head room and natural light.